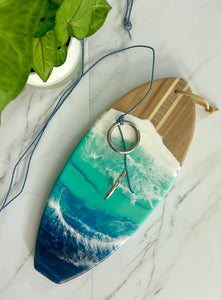 Test your skill with this surfboard shaped ring game! Multiple shades of blue combine to bring a wave of the ocean to your kitchen and beyond.
Surfboard back, hook, ring & string included.
Multiple layers of highly pigmented resin - no acrylics or paints!
FDA compliant resin 
Heat resistant to 500 degrees
6 x 14.5 x 0.63 inches
Flat grain bamboo
Individually handcrafted in small batches - each item will be as unique as you are!
As each piece is made individually; colors, waves, patterns, and color proportions will vary with each piece.

installation:
Hang surfboard on flat wall. Hang string on ceiling about 3-5 feet from surfboard. Attempt to swing ring and hook it on the surfboard!