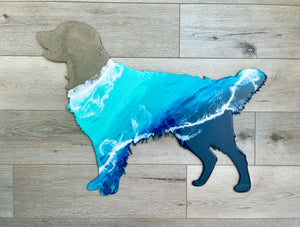 Share your love for your pet with this Dog Beach Wall Art - especially those golden retriever moms!

For those mourning a loss, this dog art gift can be made even more meaningful as I am happy to discuss memorial pieces using ashes.

Individually handcrafted in small batches - each item will be as unique as you are!
Laser cut Baltic birch wood base
Multiple layers of highly pigmented resin - no acrylics or paints!
Real California sand
Includes sawtooth hanger on back for easy hanging
Size is measured at the longest point
- 6" size is on 1/4" wood
- 10" & 14" size is on 1/8" wood

Want your piece to be even more special and meaningful? Send us some sand from that happy place - your honeymoon, a favorite spot of a loved one, or that place you dream of daily (please respect all rules & habitats!).

I am also happy to discuss memorial pieces using ashes.

As each piece is made individually; colors, waves, patterns, and color proportions will vary with each piece.